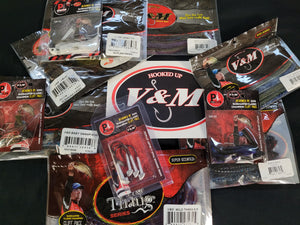 $50 Christmas Package full of our best selling products.
Included in this package: 1 pack of 5" Chopstick, J-bug, Baby Swamp Hog, Pork Shad, Flatwild, Flat Tip Worm, Pacemaker Football Jig, Pacemaker HD Swim Jig, Pacemaker Flipping Jig, 8.5 Wild Thang, Locked down heads, V&M Buff, and a V&M Decal. 
Will also receive free shipping with this order.