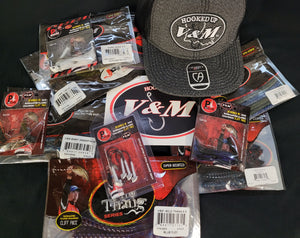 $100 Christmas Package full of our best selling products.
Included in this package: V&M Hat-1 pack of 5" Chopstick, J-bug, Baby Swamp Hog, Pork Shad, Flatwild, Flat Tip Worm, Pacemaker Football Jig, Pacemaker HD Swim Jig, Pacemaker Flipping Jig, 8.5 Wild Thang, Locked down heads, Cliff's Wild Craw, Wild Craw Jr. , Cherry Bug, 6" Pork Pin, Vertical Shad, Thunder Shad, V&M Buff,  and a V&M Decal. 
Will also receive free shipping with this order.